What Guides Us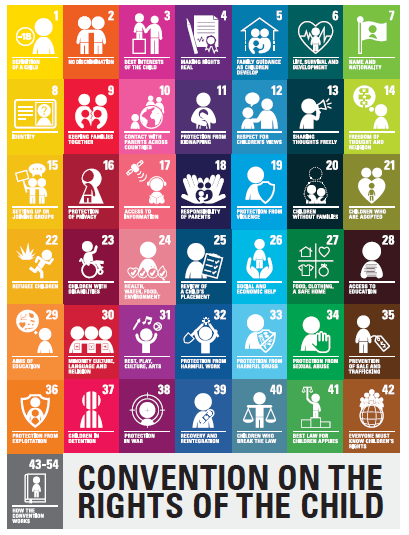 The UN Convention on the Rights of the Child plays an important role in guiding the work of the Child and Youth Advisory Committee of the PEI Office of the Child and Youth Advocate. The Convention contains many articles that set out the rights of the child and identifies the roles and responsibilities of families and governments in supporting these rights. Canada signed the Convention in 1991.
Some of the many child rights in the Convention include:
the right to a name and nationality
the right to education
the right to healthy food and a safe environment
the right, as far as possible, to be cared for by parents
the right to participate in family, cultural and social life
the right to protection from violence
The Convention will serve as a constant resource. We will also work to ensure that all Prince Edward Islanders understand the Convention and the role rights can play in strengthening individuals, families and communities.
Visit the Office of the Child and Youth Advocate / PEI resources site for children and youth to learn more. 
For every child, every right - the most widely ratified human rights treaty in history"
Highlights of Consultations and Engagements
Met with Hon. Bob Rae, Canada's Ambassador to the United Nations & recipient of the 2020 Symons Medal
Connected with the Prime Minister's Youth Council;  
Consulted with Senators and staff of the Senate of Canada; 
Raised issues to elected members of Government, Official Opposition and the Third Party;  
Met with the Premier twice;  
Met with Ministers, Deputy Ministers; and  
Met with leaders of community organizations from across PEI.  
Reports to the Premier 
Report to Senator Brian Francis 
Media Releases
Role Descriptions 
Approved by consensus of Founding Child and Youth Members 
Terms of Reference 
Approved by consensus of Founding Child and Youth Members